My Sweet Neighbors Version 0.0.2+Walkthrough by Pandelo
PREVIEW
Free My Sweet Neighbors Version 0.0.2+Walkthrough by Pandelo Porn Adult Comics download Fast Adult Comics easy download. My Sweet Neighbors Version 0.0.2+Walkthrough by Pandelo complete Adult Comics available online galleries.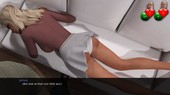 You play a man in his late-thirties, who moved in a new apartment.
Most of your new neighbors are nice, espacially the cute woman next door.
You didn't know much about her, except that she has a 18 year old daughter.
At the beginning of the game you meet her daughter the first time
and if you are gentleman enough – she could be your key to mothers… heart!
…or maybe you hit the jackpot?
Changelog v0.0.2:
I recommend to start a new game. You can still play with your old savegames, but some decisions you make in v0.0.1 could not have the right influence in few talking lines at day 2.
- Fixed some grammar and spelling errors on episode 1
- Added episode 2 with over 250 new images and 3 new animated scenes
Note: Point system is still not final
Credits:
I wanted to give a special thanks to SDevil and Shaun Skelton for helping me with proofreading! Thanks so much!
Now I wish you a lot of fun playing v0.0.2 :)
Thanks so much guys for supporting me and all the kind words on the game!
Just hope you know that I read ALL of your messages and comments! Please forgive me that I don't answer all of them.
Size
: 356